Andrea Barella, General Manager of ASDE –

S

umitomo

C

hemical

A

groSolutions

D

ivision – E

MEA region

:
We are Sumitomo Chemical's European Regional Headquarter for Plant Protection activities -insect, disease, weed control and plant growth regulators- in Europe, Middle East and Africa.
Through 5 affiliates & Direct Distribution Zones, we distribute disease and pest control, plant growth regulation, agrichemicals and biological pesticides, plant growth regulators (PGRs), seed treatment, post-harvest technologies.
We aim at achieving sustained growth by creating new value through innovative technologies.
Our objective is to build tomorrow's agriculture.
Welcome!
Our activity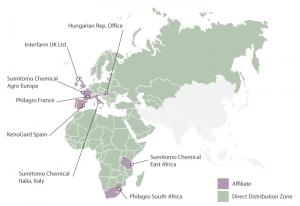 Our Direct Distribution Zones