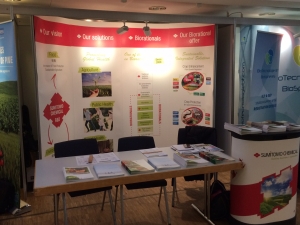 On October 24-26, 2016, The SCAE Marketing team, Regulatory colleagues and VBC colleagues attended the Annual Biocontrol Industry Meeting in Basel (Switzerland).
Valent Biosciences Corporation (VBC) and Sumitomo Chemical Corporation (SCC) are long platinum sponsor of this event and for the first time SCAE had a booth in the main avenue of the Congress.
We had the opportunity to introduce Sumitomo Chemical and our business with a lot of interesting interactions with visitors who were curious and eager for information.